Become a Jerusalem Shepherd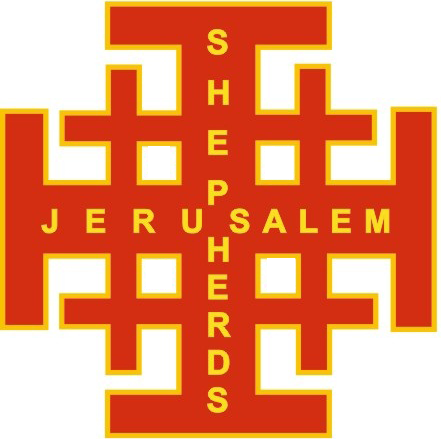 Our Lord Jesus Christ, the Good Shepherd said to St. Peter three times "Feed my lambs", "Tend my sheep", "Pasture my sheep" meaning the faithful and their descendents who are vulnerable in need of nourishing, tending, caring, and protection from the youngest lamb to the fully grown sheep.
Fulfill the wish of the Good Shepherd, Jesus Christ and become a Jerusalem Shepherd. Like the Biblical shepherds who went to greet Baby Jesus, you will be taking care of the brothers of Baby Jesus who are the vulnerable and young lambs; the needy students of the Melkite Catholic Patriarchal School in Beit Sahour, Shepherds' Fields. "And whoever welcomes one such child in my name, welcomes me". As a Jerusalem Shepherd, you will tend these young students by welcoming them and finding them sponsors. The Holy Spirit will inspire you to speak and promote the Jerusalem Students project in your church, community, council, and area to expand it.
We will supply you with the necessary promotion material, brochures, visiting cards, list of the students. The Jerusalem Shepherd is a volunteer and his /her biggest reward will be from the Lord. Each Shepherd once he gets 2-5 students sponsored will receive a blessed olive wood shepherd (symbolic) stick, a Jerusalem cross, a pin, and a special certificate of appreciation and blessing from the Melkite Catholic Archbishop of Jerusalem. The Jerusalem Shepherd is a title of humility and dedication to helping the little lambs; the needy students to find them sponsors. By being a Jerusalem Shepherd, you are serving to strengthen the foundation of Christian families in the Holy Land.
| | | |
| --- | --- | --- |
| | Join our Jerusalem Shepherds of today to welcome needy Christian students from The Holy Land and help in finding them sponsors for their education. | |
Mrs. Jeannette Zerey Elliot, Toronto

"With the generous help of sponsors, these Christian students are becoming wonderful young adults. They represent a bright future for Christianity in the Holy Land ".

Sir Knight Marwan Salem, Scarborough

"Current education in a Catholic environment is the true investment in the future of Jerusalem Students."

Sir Knight Rod Anderson (PDD, PGK), Ohio

Sir Knight Randy P. Galluzzi
Every Jerusalem Shepherd will receive an appointment certificate from the Patriarchal Vicar Archbishop of Jerusalem.